Translating…
LIVE SCORECARD | LIVE BLOG
OVERS 32.4: FOUR!
Rahul straight drives a Neesham delivery straight down the ground, it went between non-striker Manish Pandey and the stumps and beat the diving mid-on fielder.
EXQUISITE SHOT. India 175/4
Another half-century for @klrahul11 on this tour 💥 His 8th FIFTY in ODIs. #NZvIND https://t.co/MKzLGfF6zj

— BCCI (@BCCI) 1581394884000
OVERS 31.5: Rahul brings up his 8th ODI fifty off 66 balls with a cuts past point for two runs. India 170/4
OVERS 30.3: OUT! Neesham bangs it in and Iyer manages to edge it short mid-wicket where de Grandhomme dives forward to take the catch. India 162/4
100-run stand up between Shreyas Iyer and KL Rahul off 109 balls
OVERS 29.6: FOUR!
Bennett bowls a bouncer that climbs on Iyer but he bends backwards and cuts over the keeper for his ninth boundary
OVERS 29.1: FOUR!
Rahul glances a Bennett delivery to the square leg fence for his fifth boundary
150 up for India off 29 overs
OVERS 26.3: FOUR!
Rahul sweeps a Santner delivery to the square leg fence for his fourth boundary
FIFTY! Shreyas Iyer's great run of form in the ODIs continues. Brings up his 8th ODI half-century off 52 deliverie… https://t.co/2rD4rzmAbZ

— BCCI (@BCCI) 1581393114000
OVERS 25.5: FOUR! Iyer edges over a diving keeper Latham to bring up his 8th ODI fifty off 52 balls
OVERS 25.4: FOUR!
Jamieson comes round the wicket and Iyer on drives for his 7th boundary
OVERS 22.6: FOUR!
Iyer hits a Santner delivery past extra cover for his sixth boundary
50-run stand up between Shreyas Iyer and KL Rahul off 59 balls
OVERS 21.2: FOUR!
Iyer hits a Neesham delivery majestically over the covers for his fifth boundary.
India 108/3
100 up for India off 20 overs
OVERS 19.1: FOUR!
Rahul cuts a Neesham delivery to the left of backward point, poor effort from Southee at the fence
Mitchell Santner has been introduced in the attack
OVERS 17.3: FOUR!
Iyer slashes hard at a Neesham delivery and it goes flying to the third man fence
James Neesham has been introduced in the attack
OVERS 15.4: FOUR!
Rahul pulls a Southee delivery to the square leg fence for his second boundary.
India 83/3
OVERS 13.6: FOUR!
Iyer straight drives a Southee delivery down the ground
OVERS 12.3: FOUR!
KL Rahul square drives between backward point and cover point to get off the mark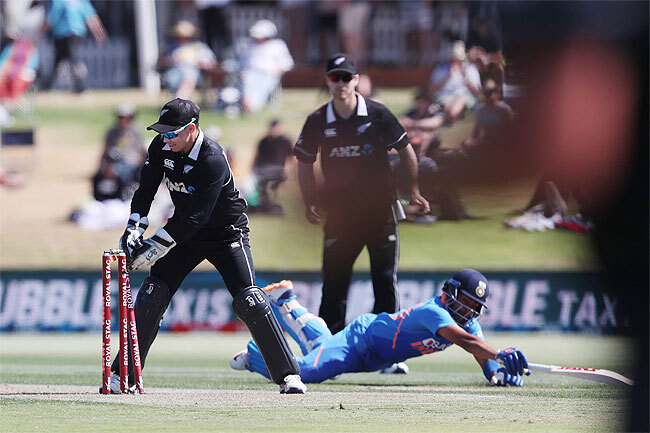 OVERS 12.1: OUT! Shaw (40) flicks a Bennett delivery to fine leg and calls for the second run but fails to beat the throw from de Grandhomme into the hands of Latham who removes the bails in a flash. India 62/3
OVERS 11.4: FOUR!
Iyer cover drives a de Grandhomme delivery. India 61/2
Colin de Grandhomme has been introduced in the attack
India lose two quick wickets and are 56/2 after the end of 10 overs in the 3rd ODI at Tauranga. #NZvIND https://t.co/A3xD9osX7A

— BCCI (@BCCI) 1581389103000
India 56/2 after 10 overs
OVERS 9.1: FOUR!
Shreyas Iyer hits a Jamieson delivery over the covers
OVERS 8.6: BIG HIT! Shaw hits over the covers to bring up the 50 for India
OVERS 8.5: FOUR!
Shaw stands tall and cuts through point, fine shot that
OVERS 8.3: BIG HIT! Bennett bangs it in and Shaw pulls over square leg for his first SIX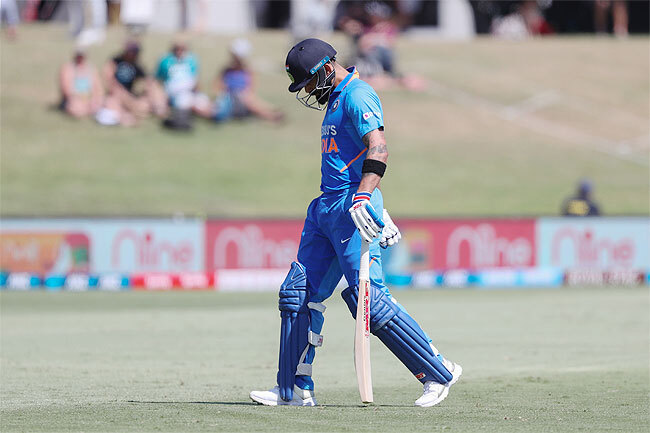 OVERS 6.4: OUT! THE BIG WICKET! Virat Kohli comes down the pitch again but the Bennett delivery climbs on him, Kohli (9) manages it to cut to third man but it went in the air and Kyle Jamieson dives forward to take a good catch. India 32/2
Hamish Bennett replaces Tim Southee in the attack
OVERS 5.5: FOUR!
Jamieson bowls it short again and Shaw cuts over backward point for his second boundary.
India 29/1
OVERS 4.1: BIG HIT!
Virat Kohli takes a couple of steps down the pitch and smashes a Southee delivery over mid-on for a flat SIX.
India 21/1
OVERS 3.6: FOUR!
Jamieson bowls it short and Shaw square cuts for his first boundary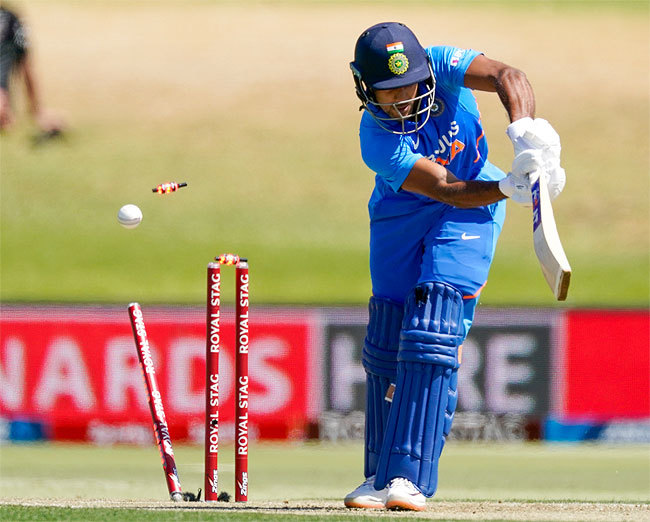 OVER 1.6: OUT! CLEAN BOWLED! Jamieson bowls the full delivery that comes in with the swing and moves away just slightly after pitching to crash into the stumps of Agarwal (1) who plays all over it. India 8/1
Kyle Jamieson shares the new ball with Southee
OVER 0.5:
Agarwal slashes to third man to get off the mark
OVER 0.1:
Southee angles the ball in and Shaw flicks to square leg for two to get off the mark
Prithvi Shaw and Mayank Agarwal walk out to open the batting for India, Tim Southee bowls the first over for New Zealand
India (Playing XI):
Prithvi Shaw, Mayank Agarwal, Virat Kohli, Shreyas Iyer, Manish Pandey, Lokesh Rahul, Ravindra Jadeja, Shardul Thakur, Navdeep Saini, Yuzvendra Chahal, Jasprit Bumrah
New Zealand (Playing XI):
Martin Guptill, Henry Nicholls, Kane Williamson, Ross Taylor, Tom Latham, James Neesham, Colin de Grandhomme, Mitchell Santner, Tim Southee, Kyle Jamieson, Hamish Bennett
New Zealand skipper Kane Williamson says that it is a new surface and he hopes dew to play a part later on in the game. Tells the fight they showed and put up a fight against a fantastic side like India has been great and they look to continue that in this game. Informs Santner is in for Chapman. Tells it was a balance thing and says it is nice to have the balance back and hence the change.
Indian skipper Virat Kohli says they wanted to bat first anyway. Tells it is a hard surface with some grass on it. Says they have nothing to lose and want to put some runs on the board. Tells it has been a great learning especially with a few debutants. Tells they were outplayed in the first ODI but showed great fight and tells the cricket has been good but also admits he is disappointed to finish on the wrong side. Informs they have one change as Kedar Jadhav goes out and Manish Pandey comes in for him.
TOSS:
New Zealand captain Kane Williamson wins toss, puts India in to bat
A toss win for Kane Williamson in his 150th ODI and we will have a bowl first. A special place for the skipper to b… https://t.co/ZDDDwXx6Oe

— BLACKCAPS (@BLACKCAPS) 1581384911000
A bright and sunny day here in Tauranga for the final ODI game. #NZvIND https://t.co/I0Q0DZj4JE

— BCCI (@BCCI) 1581380699000
With
and Shikhar Dhawan missing due to injuries, Virat Kohli missing out on scoring big and KL Rahul batting later in the order, India's traditional ODI strength was neutralised without New Zealand having to do any hard work.
Openers Prithvi Shaw and Mayank Agarwal have shown only momentary flashes of brilliance and have not replicated the kind of starts the Indian batting has grown accustomed to from its top-order.
Rohit's absence has been a major factor in India's defeat in this series. The opener averaged 57.30 in ODI cricket in the past 12 months, having a major impact on Indian fortunes in this format.
In that light, the burden of scoring runs has been placed squarely on Kohli in this series. With 66 runs in two innings, he did not come through for once and the rest didn't rise to the occasion either.
All of it resulted in reversal of fortunes on the limited-overs leg of this tour, as India had arrived here at Mt. Maunganui a week ago leading the T20I series by a 4-0 margin. They went on to drub the Black Caps 5-0, but now find themselves in the same position at the same ground.
It is also a reversal of results from the Men in Blue's last visit here in 2019 when they won the ODI series 4-1 but lost the T20I series 2-1.
India's previous ODI series loss in New Zealand was 1-4 on the 2014 tour.